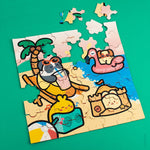 Anirollz Summer Puzzle Activity
Here's a special summer puzzle activity for you! This 64 piece puzzle is sure to keep you cool and relaxed during the last few days of summer. And all you've gotta do is download the file below! Here's what you need to do:
1. Download the file below.
We've said it a thousand times, but yeah! You definitely gotta get the image first!
2. Print the Page Out
Seems reasonable, right? The puzzle is designed to be 8 inches x 8 inches to fit on a standard 8.5 x 11 inch piece of paper, but you can always take it to your local print shop to see if they'll print it bigger for you. You can print as many of these puzzles as you need, but just remember that out free downloads are not intended for mass distribution, sales or commercial use.
3. Make a Backing
This step is optional, but it certainly helps! If you're printing on regular computer paper, gluing a thick cardstock paper will give a weight to the puzzle pieces, which is helpful so that they don't move all over the place when you put the pieces down!
4. Cut it Out
Once you have all your materials together, cut along the light grey puzzle piece shapes. Then you're ready to mix up all of your pieces and start building it back together!
TEMPLATE: