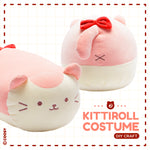 DIY Kittiroll Halloween Costume
We have another craft for you!
This time, we're making a last minute, do-it-yourself Kittiroll Halloween costume!
With just a few materials and a couple minutes to spare, you can dress up as one of your favorite Anirollz characterz.
So let'z get started!
For this project, you'll only need a few items:
Scissors
Felt (Red and Pink)
Glue (We used a hot glue gun, but any tacky glue and fabric glue also work!)
Headband
Instructions with template (Download below)
Like our other DIY projects, you're going to first need to print the template out and then cut the pieces. From there, place the cut pieces of paper onto the fabric and trace. Make sure that for Kittiroll's ears, you cut along a folded piece of felt — it will end up being twice the size as the template piece! For the tail, you can use this same method, or just cut two flat pieces like we did!
Take your ears and wrap them around your headband so that there's a piece of fabric on each side of the headband. Now take your hot glue gun and glue both sides of the felt together. We made sure not to glue the ears to the headband until we were sure that the ears are in the perfect position!
Now take your two tail pieces and glue them together.
If you don't want to see the seam of the two pieces, then don't glue down the flat side until you've folded the tail inside-out.
OPTIONAL: For either method you choose, you can stuff the tail with stuffing for more dimension! When we folded the tail inside-out, the tail already had enough volume to it so we opted out of stuffing it, but it's totally up to you!
There are a TON of different methods to making a bow, but this is the one that we found looks most like Kittiroll's!
First you're going to want to cut a strip of red fabric. The side of the bow is completely up to you, but we wanted ours to be a little on the bigger side so ours was 4.5 inches x 12 inches. Fold the long sides into thirds so that each end is touching each other in the middle. Glue the part where they touch together
Now take each side of the fabric and join them with glue.
To make a faux tie, cut a small strip and wrap it around the base. Glue down and attach it to your tail!
At this point, you've made all the pieces for a fun DIY Halloween costume! Now all that's left is for you to put it all on and tag us on Instagram: @anirollz and @anirollz_us
TEMPLATE: