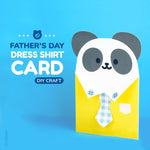 Father's Day Pop-Up Card DIY
Father's Day is near, and we have the perfect DIY card for you!
You'll need scissors, print outs, glue and something to color with. This can be colored pencils, markers, crayons-- anything! You can even use patterned paper, it's totally up to you! Download the template at the bottom of the page.
1. First, color the assets however you'd like! It's your time to get creative — you can even base your design off of a shirt the person you're making this for wears often!
2. Next, cut out all of the pieces. You don't have to use all of the pieces either -- if you would rather have Pandaroll wear a bowtie than a regular tie, then just use that one! Make sure to fold along the dotted lines for your shirt!
3. Now glue! Feel free to place the buttons on another part of your shirt if you'd like. Or don't include them at all! Again, this is *your* card, make it your own! Be sure to glue the front of Pandaroll to the back of the front part of your card to make it look like Pandaroll is wearing a shirt!
4. Here comes the best part: write a note to the special person in your life and let them know how much they mean to you!
TEMPLATES: