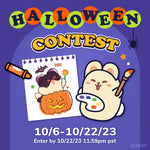 [Contest] 2023 Instagram Halloween Contest!
🎃Halloween Contest🎃⁠
Time to show off your awesome imagination!⁠
Create your favorite Anirollz characters in HALLOWEEN theme.⁠
Enter on Instagram : @anirollz_us
⁠
4 Lucky Winnerz⁠
🌟1st Place (x1)🌟 $50 Anirollz e-Gift Card + Hello Anirollz Gel Pen Set⁠
🌟2nd Place (x1)🌟 $30 Anirollz e-Gift Card⁠
🌟3rd Place (x2)🌟 $15 Anirollz e-Gift Card⁠
⁠
How To Enter:⁠
👻 Go to anirollz.com ➡️ Anirollz Blog⁠
👻 Download the template of your favorite character⁠ below
👻 Print or save (for those who want to create digitally)⁠
👻 Start creating HALLOWEEN themed Anirollz⁠ (draw, color, or even collage!)
👻 Post your photo on your feed/story and tag us (@anirollz_us) *public accounts only*⁠
👻 DM us your photo, so we can repost them!⁠
⁠
* Top 4 will be selected by our Anirollz team⁠
* Winners from the Top 4 will be selected publicly in a tournament bracket style.⁠
* Polls will be held on our IG story (for 24hrs)⁠
⁠
Enter by: 10/22/23 (11:59pm pst)⁠
Group A poll starts 10/24/23 4:00pm pst⁠
Group B poll starts 10/25/23 4:15pm pst⁠
Winners of Group A&B starts 10/26/23 4:30pm pst⁠
Winner Announcement on 10/27/23 5:00pm pst⁠
U.S. Residents Only⁠
⁠
*** We DO NOT require anyone to fill out a form. Any accounts other than @anirollz @anirollz_us @anirollz_kr are NOT related to us.***⁠
👇 Download 👇
[Pandaroll]
[Kittiroll]
[Puppiroll}
[Owlyroll]
[Foxiroll]
[Bunniroll]
[Chikiroll]
The information, images, and/or data contained in this website is copyrighted by COOSY and may not be distributed, modified, reproduced in whole or in part without the prior, handwritten and signed consent of Coosy. Unauthorized theft and illegal use are legally punished.
©Coosy. All rights reserved.