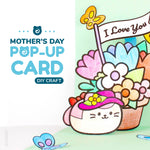 Mother's Day Pop-Up Card DIY
Ever wanted to make a pop-up card but not sure how? We've got you covered! Personalize your very own card and give it to the superhero in your life. Read below to see how it's done.
Before you get started, make sure you have these simple materials: scissors, the Anirollz Mother's Day Card Coloring Page (bottom of the page), glue, markers and a card. You can use any kind of glue that works for you (we used tacky glue) and you can also use anything to color your pages – we used colored pencils for a more handmade look. It's up to you what you use – this is yours, make it as unique as you want! As for the card, you'll need to fold an 8.5x11 inch piece of paper in half, hamburger style! So once it's folded, it will be 5.5x8.5 inches. The assets are sized so that it will all fit once closed!
1. Color the pages using your paint, markers, colored pencils – whatever! This is a great time to get creative!
2. Cut out the pieces you just colored as well as 4 strips of paper. The strips of paper can be as long as you want, but be sure to make them at least a half inch thick so that they can hold your pieces together on the page. After doing that, fold the pieces into thirds, make sure all the pieces are folded the same way!
3. Put glue on one end of each strip. Glue 3 strips to the back of your flower pot (make sure one goes on the flag part to keep it sturdy!) and 1 on Kittiroll. Put Kittiroll aside. Once your flower pot strips have dried, glue the other end directly onto the top part of your folded card. Make sure to position it in a way you're happy with before the glue sets!
4. While waiting for all of that to dry, you can begin to place your butterflies! First, fold the butterfly wings in half. If it's not perfect, that's okay – one of the wings is smaller than the other to give it a bit of dimension. Then, put glue on one side of the butterfly wings and put it anywhere on your card. You can put them on either side of your card and if you need extra butterflies, you can always print more out!
5. You're almost done! Kittiroll should be dry by now so take it and glue the other end of your strip to the front of your flower pot; it's the same thing as step 3, except instead of gluing it to your card, you're gluing it to your flower pot! OPTIONAL: Write a sweet note in the empty spaces of your card.
All done! We would love to see your creations – be sure to tag us on Instagram for a chance to be featured!
TEMPLATE: