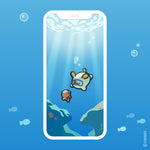 [Wallpaperz] Puppiroll Under the Sea
Aniroillz in your daily life! Please feel free to download and use it on your phone
!
Your suggestions/comments are a big help to prepare for next week's wallpaper!
Please feel free to download it and leave a comment below!!! :)
*The illustration can be deleted without notice after a certain period of time.
[How to Download (same for all phonez)]
Click on the image, then select "Save to My Phone" or "Download Pictures" from the pop-up.
When applying it to your phone, adjust the size to fit the screen well :)
The information, images, and/or data contained in this website is copyrighted by COOSY and may not be distributed, modified, reproduced in whole or in part without the prior, handwritten and signed consent of Coosy. Unauthorized theft and illegal use are legally punished.
©Coosy. All rights reserved.