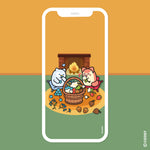 [Wallpaperz] Winter Flowerz
Spreading Winter flowery cheers!
🌲
Plan your dayz with

 
Anirollz! Please feel free to download and use it on your phones, watches, tablets, laptops 
!


Your suggestions/comments are a big help to prepare for next week's wallpaper!
Please feel free to download it and leave a comment below!!! :)
*The illustration can be deleted without notice after a certain period of time.
👇 Download 👇
[Phone Wallpaper]

[Laptop Wallpaper]

[Laptop Calendar]

[Tablet Wallpaper]

[Tablet Calendar]

[Apple Watch Wallpaper]

[Galaxy Watch Wallpaper]

The information, images, and/or data contained in this website is copyrighted by COOSY and may not be distributed, modified, reproduced in whole or in part without the prior, handwritten and signed consent of Coosy. Unauthorized theft and illegal use are legally punished.
©Coosy. All rights reserved.